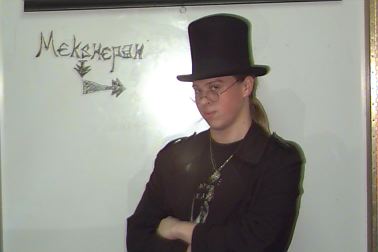 Well here you are staring at my profile and wondering so just who is Mekshepah? Well the answer to this is not as easy as it seems. To start off I'm in my senior year at the second crappiest high school on the face of this little blue marble. I'm often decribed as the most gothic thing there all though I don't really think I'm goth. I think I'm just what I am: A magician.
I wear black for three reasons:
1) Slenderize!
2) To symbolize how far from divinity we truly are
3) So Mekshepah doesn't ever have match his wardrobe
I constantly have my tarot cards with me, and play soliatare with them quite often much to the distress of my teachers. And yes my glasses are prescription and I do wear my top hat a lot. I am a mystic and practice kabbalah avidly. But don't ask me about it cause you would not get any replies. I like thinking about weapons of mass destruction, and on the channel I use them. Love waffle house and practically live there with Benares. Well thats about all about me. Going to have silver hair and will post a picture when I do.

* Web Goddesses * #Alt.Vampyres * Denizens * History * Meetings * Words *
All text and images are copywritten by their respective creators
and are not to be used without express written consent.