The Road Less Traveled
Our main place of residence for the days in Atlanta, Georgia, was the Red Roof Inn in Marietta. They put up with us from the 30th until the 2nd when we all finally checked out and let the maids do their dirty duty. The rooms were nice, and a king size bed is perfect for three, although four is a little crowded and usually sends someone to the floor to sleep (sorry Bowyn). The major irony is that Priest had the largest room, yet we never even went near there. Room 211 was the hospitality suit of the party, keeping SusiNeito and IceWulf up forever, at least until 4:00 am when everyone would go to their rooms. The next most popular room was 246, where Muligan, Bowyn, Euronymous, and I fought and played and I was tortured to death by everyone. Yes, everyone, I had men all over me on that lovely king size bed. *sigh* Okay, so we were fully clothed, but damnit, I was there!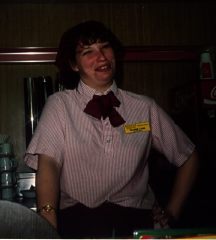 When we left the Red Roof Inn, it was usually first to the Waffle House. We still owe Shannon the waitress a bigger tip, even though we did save her by paying her $4 to harass Bowyn, AKA Pony Boy. Just ask him and watch the blush! I, a perfect Northerner from Minnesota and Oregon, also learned the beauty of grits. Susi and Shannon both taught me the complexities of fucking with the crap. I still say it looks like cream of wheat. Toreador also made sure we all got free coffee compliments of the hotel's funky little cards. We all have our souvenir Waffle House hats, of course!
Besides the Waffle House, we also made excursions to Toys R Us, some mall across the road to find Kitana some new boots (which we never did find), and SusiNeito's brother's house to see fireworks and watch the ball drop in New York on New Year's.

* Web Goddesses * #Alt.Vampyres * Denizens * History * Meetings * Words *

All text and images are copywritten by their respective creators
and are not to be used without express written consent.