A Night in New York
as told by Plick
I hate New York when it's cold cause the wind blows right through you and it sucks. And this night was one of those cold nights. Cathari and I had arrived in New York and parked in a garage a block away from the famed Webster Hall. We had intended to hang out there for the evening, but we had other plans now. We were going to a small club called Twilo, located in a part of town I will never dare to investigate again. We were to meet Aery at Twilo. Cath could hardly contain herself, it had been quite awhile since her and Aery had seen each other. After a taxi ride from Webster Hall to Twilo (which was not easy to find, and thus had Cath uttering, "I'm gonna kill Aery.") we stood amidst an eclectic display of people. Here I was in fishnets, boots, a KMFDM shirt, and my uncle's old Marine jacket, and Cath in her totally sexy lace shirt. There was a goth, a bunch of hip-hopper like people, and various other freaks waiting outside this club. What type of a place was this?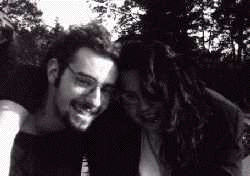 A sorta random pic of Plick and Cathari

After waiting a bit, we decided to go for cigies and ended up at a gas station pumping exact change into a vending machine. I did not feel very safe walking around the town in fishnets. We again stood in the night waiting outside the club for the arrival of Aery.

Aery arrived with Morpheus and some of her family and instead of rushing into the club we spent more time standing around talking. Eventually it was decided we were not gonna go to this club cause we were not in a techno mood. (That we found out was the type of club we were at, a techno club). So we headed for taxis and were off to my favorite hang out with Marius, The Bank.

Aery, Morpheus, Cath, and myself all rode in one cab. Morpheus and I sat quietly as Aery and Cath laughed and caught up on life. Cath was yelled at a couple of times for being too cutsie with me by Aery.

Once at The Bank we couldn't have felt more at home. The Bank is a gothic/industrial/new wave club. The very first thing we heard upon entry was The Cure, things could not have been better. Cath was first to jump in and dance while Morpheus, Aery and I watched the sea of people. We had some drinks (but Cath and Aery never had their margaritas!) chit-chated, then the four of us dived into the sweaty flesh. I believe it was Master and Servant that got us all to jump in.

The night soon came to a close as Aery had to head back to Connecticut the next morning and Cath and I had to get some sleep for our next adventure the following day with Marius and Kashie. Before we all departed for the night we invited Morpheus to come along on our next adventure so the channel adventures could continue. Cath and Aery hugged and said farewell.

It was a really fun time, a lot of memories for Cath and Aery, and some new introductions for myself. And I think thanks to that night, I'll be seeing a little more of Morpheus in the future.

* Web Goddesses * #Alt.Vampyres * Denizens * History * Meetings * Words *

All text and images are copywritten by their respective creators
and are not to be used without express written consent.