! File: vhd/cdrom.html> <! Updated 20001230>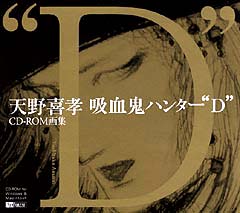 Review by Lance Hatami written December 2000.
Yoshitaka Amano Vampire Hunter "D" CD-ROM Illustration Collection
Published: 2/17/2000 by Synforest Inc.
Price: 4,900 yen
For Macintosh (with Japanese Language Kit) and Windows 95/98 with Kanji Talk 7.5 (not compatible with Windows 3.1)

One may wonder about the quality of CD-ROMs from a publisher of fine arts, wildlife, and music CD-ROMs would be, considering this is their only anime-related title. However, Synforest has gone well above and beyond what other major publishers like Movic and Gainax have done half-heartedly.

The Yoshitaka Amano Vampire Hunter "D" CD-ROM Gashuu is a wealth of works from the 17-year history of novels by Hideyuki Kikuchi. It covers works from the very first Vampire Hunter D to the 19th book, Dark Road 3 (1999), plus illustrations from the Collector's Edition Hardback series, original works for the video and related merchandise, plus reproductions and lithographs. And it doesn't stop there. There are also six jigsaw puzzles, 10 desktop backgrounds, a special SD "D" screensaver, and more.

First off, the packaging is spectacular. It comes in a tri-fold Digipak case printed in mostly black and gold. Inside, there is a sketch of D with a synopsis of Yoshitaka Amano's works. On the CD and the below the CD holder are pictures of the SD "D" that appear in the screensaver (cute!)

When the CD loads, there is a computer graphic menu that will lead you to different parts of the CD-ROM. The main part of the CD-ROM is the illustration slide show collection, which you can run on auto or manually control the duration. One of the best parts is the information window you can choose. This tells you the title of each work (along with correct reading in Japanese), when it was produced, what kind of work it is (lithograph, etc.), where it was produced (Japan or Ten Productions in NY), paper used, and even what the actual size of the work is!! Here is a breakdown of each Slide show.

Main Slide Show 1: Vampire Hunter D Novel Illustrations Collects the cover illustration as well as the black and white illustrations

Main Slide Show 2: Vampire Hunter D Collector's Edition Illustrations Collects both the color cover illustration and the inner color illustration

Main Slide Show 3: Hanga Illustration Collection Contains reproduction illustrations, such as lithographs and lithograph reproductions (illustrations repeat numerous times here, sometimes in different colors)

Main Slide Show 4: "The Other Side of 'D'" Contains illustrations for the anime and related merchandise (such as the CD, posters, etc.)

Play All & Random Slide Show (with Effects) This will play a slide show for all the pictures with effects such as spotlights and washes. You can stop this at anytime using the control bar.

In the "Vampire Hunter "D" Materials Building" you can read (and hear in Japanese!) a prologue of Vampire Hunter "D" and summary of each book. Also each book is separated into its own page where you can see the published cover complete with release date, price, ISBN number and access to printing the information as well as viewing all the illustrations from the novel.

Also, there is an encyclopedia of 219 terms and characters with references of where each first appeared (Japanese only). And finally Kotobukiya's "Nightmare" statue can be viewed and rotated with your mouse.

In the "Index and Private Gallery" you can choose from thumbnails of all the illustrations to make your own slide show. Useful in quickly finding your favorite D.

The "Detail Gallery" is VERY original and demands much applause. Ten works (such as the cover of the anime video and the eighth novel) have been enlarged so you can view all of Yoshitaka Amano's dreamy lines and vibrant colors. It's a shame that all the works couldn't be shown in this way.

"Profile and Credit" looks at profiles for Hideyuki Kikuchi, Yoshitaka Amano, and the two music writers. There are photos of everyone, except Kikuchi which also has the shortest summary.

And finally, there are the extras. The SD Screensaver is cute, with little D running around your screen, but it gets repetitive after the first run. The jigsaw puzzles are a lot of fun, from your standard pieces, to "D" pieces, to two illustrations that have been picked because they contain lots of black (pretty hard), but you can still cheat pretty easily by choosing the "view the original image" button... The ten desktop backgrounds are also nice.

I can't comment on cropping of pictures, which I'm sure was done since very few collections of anyone's works do not crop pictures in some way (only the Chiho Saito Utena Illustration book shows the masked edges). The music, although not Tetsuya Komuro's anime music, has a nice feel to it. But, of course, if you don't like it, it can always be turned off.

One comment I make is that Synforest really packed the CD (it's over 600 MB) so I can't complain about the lack of anything except the absence of illustrations from the books published after this CD-ROM came out. Hopefully they'll have enough to produce another ROM (maybe DVD?) that will be as spectacular as this one.

View the Synforest page for this CD-ROM.

Back to the FAQ page
Back to the Index